Especially in the wintertime! Drawing inspiration from the freezing weather and
Sundance catalog
, this outfit features a chunky knit teal sweater (aunt's hand-me-down, more jewel-toned in person), my favorite winter skirt - a purple/burgundy/nuetralish cord from the Sundance Outlet, textured tights and BareTraps clogs (I still can't get over their cute buckles!).  Peculiar expression spur of the moment. 
While we're on the subject, I knew there was a good reason I'd been taking pics (or asking
Laura
to) of more interesting outfits lately! Here are some from earlier this year: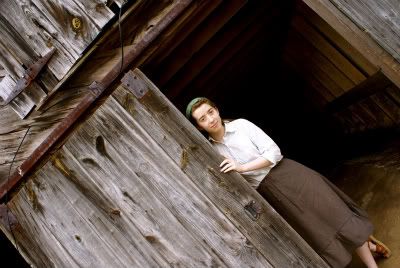 Cool brown linen drawstring skirt for summer (J. Crew), striped blouse (BITTEN), super comfy sandals, and a wide headband for color.
Trying to figure out someway to wear a bucket hat...warm eyelet tee (Sundance Outlet), wool tweed skirt, belt, tights and those clogs again. Also, Ben Franklin's auto-biography makes for a great accessory. :)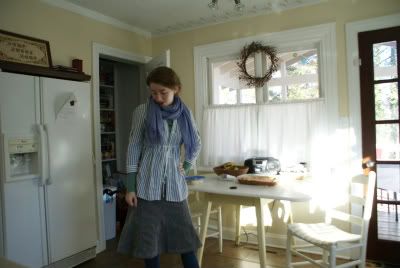 Most unusual combo of the year. ;) I was...inspired? Teal tee (AE), striped blouse worn jacket-style, grey corduroy skirt and more yummy tights.
I do wear pants too - skirts just seem to be the most fun to rearrange in outfits! Modesty is
so
easily attained. I have piles of catalog and magazine cutouts that demonstrate this - even some that are
frum
and still super cute!